Energy-efficient HVAC fans
The MAYA energy-efficient HVAC fan has set the standard for high efficiency and low maintenance since its introduction. Our indigenous fan engineering know-how is utilized so that our fan you select today provides the broadest range of configurations and the highest capacities available in an HVAC fan.
For decades, MayaFan has been a leading producer of fans for the fulfillment of the varying requirement of this industry. Maya HVAC fan takes advantage of this experience by bringing it down to energy consumption. And also provide a special low noise fan series which bring down noise as low as 5 to 10 dba less compare to conventional HVAC fans.
For performance that exceeds specifications on a tight budget, the Maya Fiberglass HVAC fan incorporates field-proven, industrial-quality fans. You get the unsurpassed integrity, performance, and reliability you'd expect… at a price that may surprise you.
We are providing only axial airfoil HVAC fan which is much more efficient than regular centrifugal fans, we have done many of retro fitment project where we replace existing fans with ours and achieve a great result.
For performance that exceeds specifications on a tight budget, the Maya Fiberglass HVAC fan incorporates field-proven, industrial-quality fans. You get the unsurpassed integrity, performance, and reliability you'd expect… at a price that may surprise you.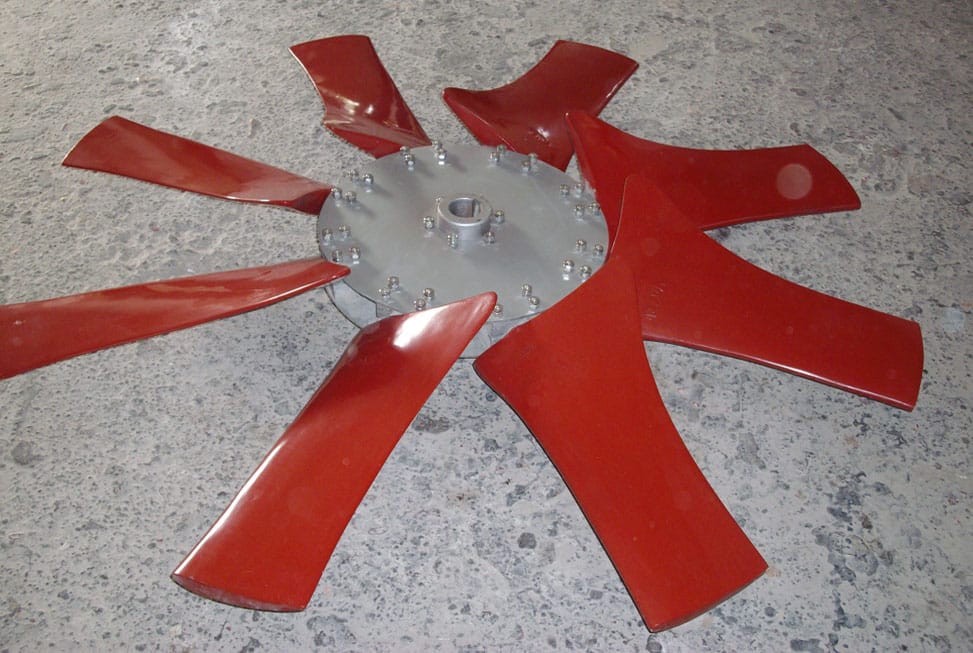 FRP HVAC Fans Key Feature
Low Operating Costs/Low Energy Consumption.
Good Performance in all weather conduction.
Very low payback period in case of replacement of existing fan.
Zero Cost Solution for power saving opportunity.
Low Operating Costs
Maya High efficient airfoil blade design
optimization of twist cord and cross-section provide maximum efficiency.
The involvement of the most advanced composite material reduces turbulence and produces smooth linear airflow.
Optimum design for the duty point No overdesign of the fan.
Long Life Construction
Most of the part made of Heavy-duty composite and hot-dip galvanized material which meets the corrosion resistance and equipment life requirements of your most demanding heavy industrial applications while still delivering an outstanding value.
Lightweight impeller, therefore, increases in the life of all the mechanical components.
FRP HVAC Fans are also available with Series 300 stainless steel as an optional upgrade which comes with a 5-year limited warranty.
Maya FRP HVAC Fans are manufactured in ISO-2015 certified facilities, attesting to our commitment to comprehensive quality processes and systems.
Fast emergency response.
Ready-made fan available.
The minimum stock of the fan spare is maintained.
Low manufacturing leads to time because of zero outsourcing.
The expert team available for fan installation.
Quiet by Design
the composite blade has a glossy surface finish that offers smooth airflow.
low tip speed design (Nose are directly proportional to tip speed).
No outsourcing full quality control thus achieves minimum tip clearance.
Special design available for extra low noise fan which can reduce noise up to 10 dba compares to conventional fans.
Performance for All Seasons
The fan is a constant flow machine and to maintain its performance despite critical variation in weather Maya FRP HVAC fans are designed for a broad range of operation our fans are having a good amount of reserve margin for both airflow and static pressure fan performance throughout the year in all type of seasons.
Low Maintenance/Less Downtime
Maya FRP HVAC fans are made of high-quality material and robust design.
Maya design fans for low operating tip speed which increases overall system life and also reduces the chance of failure.
Unlike the painted fan, we do provide a permanent coating of a gel coat that remains an integral part of the fan blade body and does not get separated due to erosion.
FRP HVAC fan construction
Here is the list of Maya FRP HVAC fan component with a there brief detailing
Fan Blade
Maya FRP HVAC fan blade is made of latest airfoil similar to that of aeroplane wing we do choose most advanced airfoil possible for the fan to provide maximum efficiency by this we achieved superior performance, our blade is very robust in construction and designed for 7-10 times of operating load we also provide superior wear resistance material to maintain surface stability for a long period of time which prevent efficiency deterioration.
This FRP HVAC fan blade is having some of the very charismatic property it is very much possible to produce any complicated shape with ease thus provide economical solution some of its special features are and listed below –
High strength at low weight.
Good impact, fatigue, and Tensile Strength (Ultimate)
Excellent environmental resistance.
Excellent chemical and corrosion resistance.
Superior surface finish.
Better life of the entire FRP HVAC fan system due to low assembly weight.
Low moment of inertia help for the selection of optimum motor and reduce over design due to higher starting torque thus motor operate under a better range of efficiency.
Fan Hub / Boss
Hub used in FRP HVAC fans is of heavy in construction in this we are using heavy thickness mild steel plate, cast iron, or Aluminum clamp and stainless steel hardware to provide long life we are coating all mild steel part with heavy thickness of zinc.
Note – Optionally we also provide customize hub/Boss on special demand of the customer, like caste hub boss, Spider Type Fabricated hub, etc.
Key Feature
Heavy-duty MS fabricated.
Hub is dynamically balanced as per ISO 1940 grade 6.3 or 2.5 if required.
The individual part of the hub is moment balanced.
All the MS part are hot-dip galvanized
Option for different grades of ss plate is also available.
Nut bolt used are of coated HT or stainless steel series.
For sea weather application Solvent Free, Self-levelling Coatings are available.
Taper Locking
in most of our fan, we preferred to have a taper locking arrangement which is proven in the field these taper lockings are mostly made of Cast iron or stainless steel.
AERODYNAMIC HUB
is made of E-glass anti-static fiber, having UV protection, it is available in the segment for ease of transportation.
This is used to maintain laminar airflow at the center of the fan and avoid eddies generation.
It is having a high surface finish for smooth airflow.
It is having anti-static properties.
It seals the fan circuit and avoids air recirculation.
It gave freedom to reduce the mechanical hub dimension.
Unlock All Feature Of Maya Fan With Our Special Feature Presentation
PRESTIGIOUS FRP HVAC FANS CUSTOMER






Frequently Asked Question
My HVAC fan is also airfoil fan, can we still save on energy ?
There are thousand of airfoil available and whatever profile use it is an airfoil.
With aluminium casting, there is a restriction to chose a thin profile to reduce blade weight, whereas, with FRP hollow construction blade, designer get full freedom to choose the maximum efficiency profile.