High efficient FRP cooling tower fan
The Cooling tower is a type of heat exchanger it transfers process waste heat to the atmosphere. Circulating water used to reject heat by the airflow generated by the cooling tower fan.
At Maya, we manufacture a broad range of FRP cooling tower fans. These fans are energy-efficient and achieve up to 40% power saving.
The cooling tower fan is key-equipment in the tower. It must have the following properties-
High Performance: Cooling tower fan must deliver high performance in its full lifetime.
Reliability: Entire process in the plants depend on the cooling tower. So in the case of CT fan failure, plant operation stops. Thus cooling tower fan must have the highest reliability.
Fan Constructions: Cooling tower fans must have robust construction as it has to run 24 hr 365 days.
Fan Efficiency: These cooling tower fans are high energy consumption equipment. So to save energy, the fan must have the highest-efficiency.
We know the operating environment of the cooling tower fan is full of corrosion. It proves fibre-reinforced plastic "FRP" as the best material for cooling tower fans. FRP is light in weight and high in strength as well as it is having excellent resistance to corrosion. So it must be a primary focus to use FRP fan for high efficiency.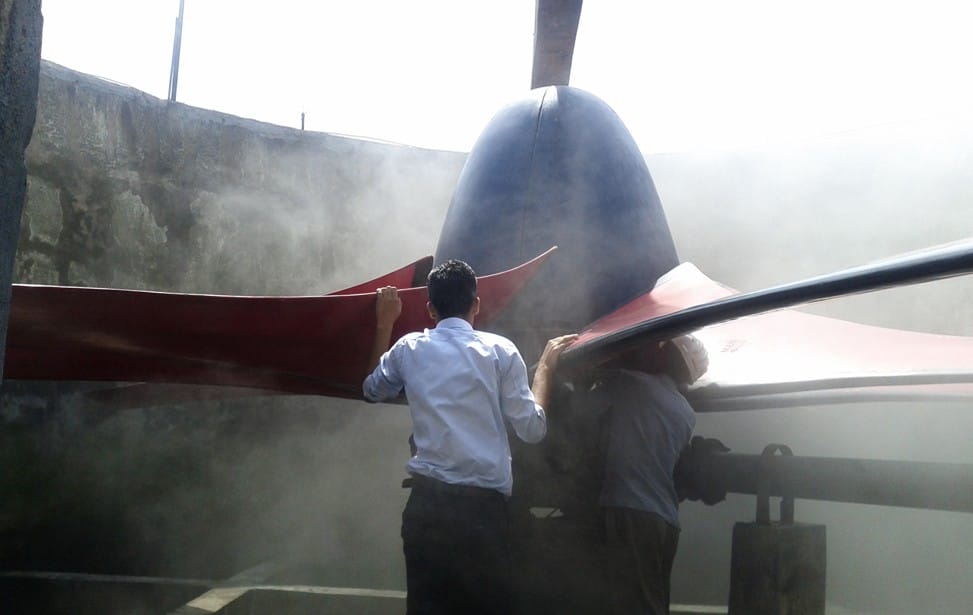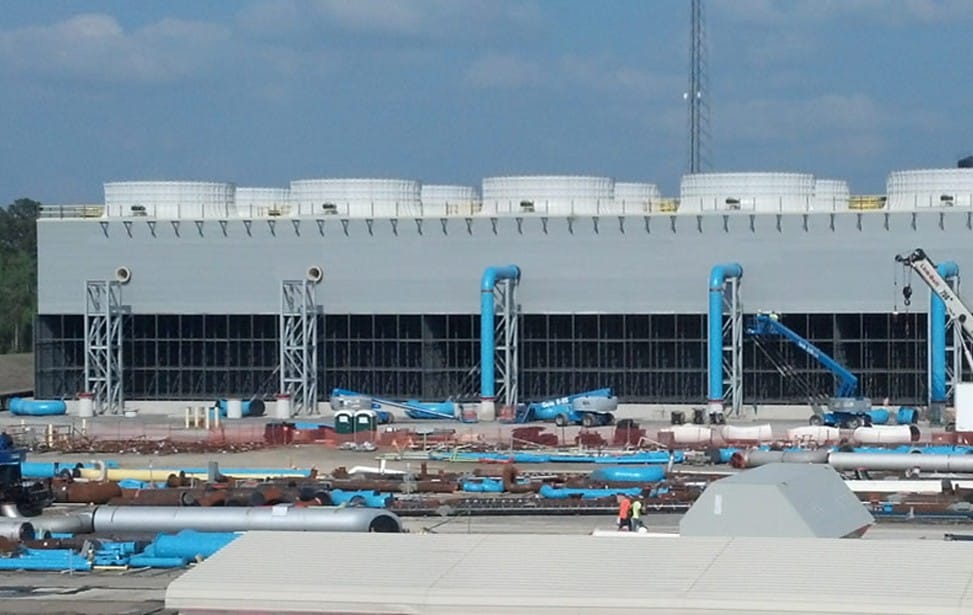 Specification of our cooling tower fan
Up to 40% power saving in CT fan
Fan Diameter range in foot
Static Pressure in mm of wg
Power saving opportunity with energy-saving FRP cooling tower fans
In power plant cooling tower fans are among the highest energy consumption equipment so even a small saving in fan power is an achievement.
The fan is a cooling tower part that is easiest and cheapest to modify and having a high impact on the performance.
Power Saving Against metallic fan is up to 40%

Saving against conventional FRP fans is up to 25%

And saving against our own fan installed before 2015 is up to 20%
Payback period is as low as 8-3 month
Cooling Tower Fan Key Feature
High Efficient FRP fan impeller.
Up to 40% power saving against conventional fans.
Long Life fan Construction.
Zero Downtime with minimum care.
Very low payback period in case of replacement of existing fan.
Hollow blade construction Reduce fan weight and increase life of mechanical components.
Zero Cost Solution for power saving opportunity.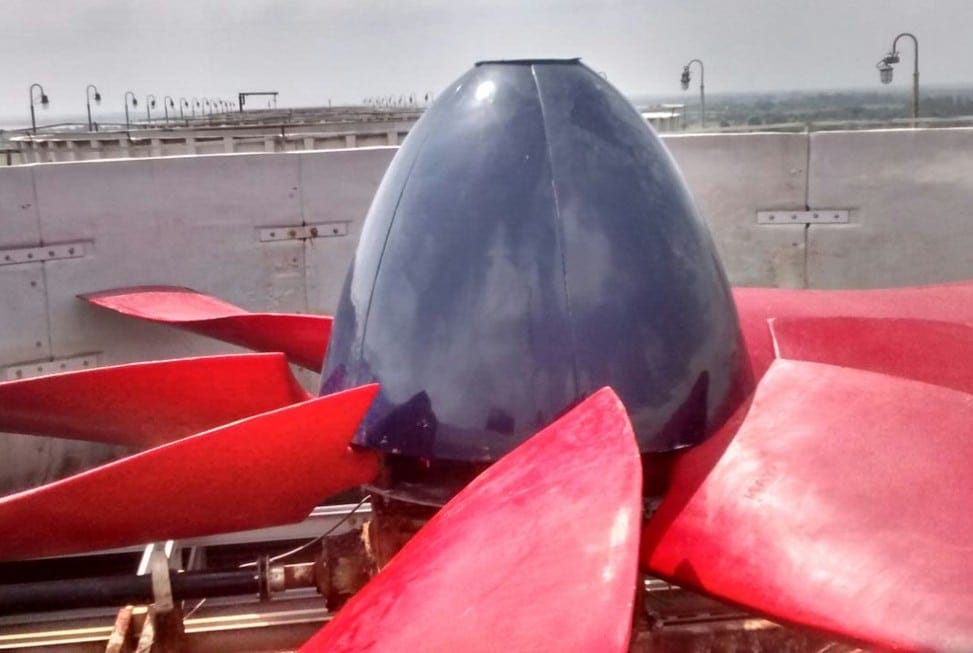 Why choose Maya Cooling Tower fan?
Low Operating Costs
Maya High efficient airfoil blade design
Optimization of twist cord and cross-section provide high efficiency.
The involvement of the most advanced composite material. Reduces turbulence and produces smooth linear airflow.
Best design for the duty point No over-sizing of the fan.
High ratio of the coefficient of lift to the coefficient of drag.
Efficiency and performance
The aerodynamic hub provided with a fan.
It functions like an airplane nose.
High airflow delivery due to zero re-circulation.
The fan surface is mirror finish it delivers laminar flow over the blade length.
The option is available for high to very high-pressure fans.
Less power consumption to deliver the same airflow.
Low payback period in case of replacement of existing fan.
High performance in all weather and environment.
Zero Cost Solution for power saving opportunity.
Long Life Construction
Most of the parts made of Heavy-duty composite and hot-dip galvanized material. It meets the corrosion resistance and equipment life requirements of heavy industrial applications. While still delivering an outstanding value.
A lightweight impeller, thus, increases the life of all the mechanical components.
Cooling tower Fans are also available with Series 300 stainless steel. It is an optional upgrade that comes with a 5-year limited warranty.
Maya cooling tower Fans manufactured in ISO-2015 certified facilities. It attests to our commitment to comprehensive quality processes and systems.
Fast emergency response.
Ready-made fan available.
The minimum stock of the fan spare maintained.
Low manufacturing time because of zero outsourcing.
An expert team available for fan installation.
Quiet by Design
The composite blade has a glossy surface finish that offers smooth airflow.
low tip speed design (Noise is directly proportioned to tip speed).
No outsourcing full quality control thus achieves the least tip clearance.
Special design available for extra low noise fan which can reduce noise up to 10 dba compares to conventional fans.
Performance for All Seasons
The fan is a constant flow machine. To maintain its performance, despite critical variation in weather our fans designed for a broad range of operations. Our fans are having a good amount of reserve margin for both airflow and static pressure. Thus fan performs throughout the year in all types of seasons.
Low Maintenance/Less Downtime
Maya FRP cooling tower fans made of high-quality material and robust design.
Maya design fan for low operating tip speed, it increases system life and also reduces the chance of failure.
Unlike the painted fan, we do provide a permanent coating of a gel coat that remains an integral part of the fan blade body. And it does not get separated due to erosion.
Quality and construction
Hollow blade construction Reduces fan weight which reduces starting torque.
Lightweight FRP blade increased life of mechanical component i.e. cooling tower fan gearbox, driveshaft, motor, and bearings.
Excellent corrosion resistance with consistent performance even after a long time of operation.
Cooling tower fan assembly is statically balanced as per ISO 1940 grade 6.3 or 2.5 if required.
Small fans of up to 10 feet diameter are dynamically balanced.
The fan has reduced vibration due to closed-circuit operation.
Long life of fan due to reduced vibration and fatigue.
Low noise operation due to laminar flow and less vibration.
Updated fan manufacturing Facility and no outsourcing thus better control on quality.
The latest technologies used to improve the product and manufacturing process of fans.
The option is available for low to very low-noise cooling tower fans, with a blade of up to 1.2-meter chord width.
We serve all 3 main categories of Mechanical draft cooling tower:
Forced draft cooling tower fan.
Induced draft crosses flow cooling tower fan.
Induced draft counter flow cooling tower fan.
The cooling tower is also categorized by its construction–
FRP Cooling towers
Timber cooling towers
Concrete cooling tower
Latest introduction Pultrusion cooling tower.
Maya Fan installation is there in each type of cooling tower in the list.
We are India's largest fan supplier to the cooling tower manufacturer (OEM).
All the major cooling tower maintenance and repair companies are our associates.
With our expertise in axial fan blade design, we develop more than 100 customized fans.
We have a proven track record for power saving in metallic cooling tower fans as well as in conventional FRP cooling tower fans.
Maya FRP cooling tower fan construction
Here is the list of Maya cooling tower fan components with a there brief detailing
Cooling Tower Fan Blade
Maya cooling tower fan blade made of latest airfoil similar to an airplane wing. We do select the most advanced airfoil possible for the fan to provide maximum efficiency. Due to this, we achieved superior performance. Our blade is robust in construction and designed for 7-10 times of operating load. We also provide superior wear resistance material to maintain surface stability for a long period of time. This prevents efficiency deterioration over a period of time.
This FRP cooling tower fan blade is having some very charismatic properties. It is very much possible to produce any complicated shape with ease. Thus provide an economical solution.
some of its special features are listed below –
Our cooling tower fan blade uses high-grade fiber reinforced plastic (FRP).
Single-piece Joint-less molded and Pultruded FRP blades with E glass fiber and epoxy resin.
High strength at low weight.
Good impact, fatigue, and Tensile Strength (Ultimate)
Excellent environmental resistance.
The anti-static fiber used for blade manufacturing.
High-quality UV protection to achieve a long life of the blade.
Excellent chemical and corrosion resistance.
Superior surface finish.
The blades having hollow construction to reduce the weight.
The aerodynamic profile in its full blade length. (unlike conventional blade having up to 30 % blank area)
Better life of the entire cooling tower fan system due to low assembly weight.
Excellent twist to width combination achieve high-efficiency.
All the blades made with core for high load capacity.
A combination of various fibers used to achieve superior strength.
The blade is broad at the shank and reduced toward the tip. It maintains the constant air velocity throughout the length.
Low moment of inertia help for the selection of optimum motor and reduce over design due to higher starting torque thus motor operate under a better range of efficiency.
Blades overlap to the aerodynamic hub. It closes the circuit to block the reverse movement of air.
Many blade designs are available for different duty points. Each blade design helps to achieve high efficiency at a specific application.
Maya FRP cooling tower fan blade Advance feature
All our cooling tower fan blades having leading-edge protection to avoid erosion.
The option is available for stainless steel leading edge.
Blades tested for structural stability.
Fan blades can have FR material if required.
Replaceable leading edge. (Where leading-edge damaged due to faulty cooling tower drift eliminator.)
Blades use anti-static fiber to prevent static charging.
Full proof structural design of blade that passes 4 times load test.
Blades tested for the proof load.
The blade is moment balance so that it can replace when required.
Blades tested for track variation.
Every new blade design tested under an in-house wind tunnel.
A full evaluation of fan performed before launch.
Fan Hub / Boss
Hub used in cooling tower fans is heavy in construction. In this, we are using a heavy thickness mild steel plate, cast iron or Aluminum clamp, and stainless steel hardware. It provides long life, as we coat all mild-steel parts with a heavy thickness of zinc. Note – Optionally we also customize hub/Boss on demand of the customer, like caste hub boss, Spider Type Fabricated hub, etc.
Key Feature
 Heavy-duty MS fabricated.
Hub is dynamically balanced as per ISO 1940 grade 6.3 or 2.5 if required.
The individual part of the hub is moment balanced.
All the MS parts are hot-dip galvanized Option for different grades of ss plate is also available.
FE – 200 cast iron block or Aluminum block.
FE – 200 cast iron central bush.
Hardware SS163, SS304.
Nut bolt used is of coated HT or stainless steel series.
For sea weather application Solvent Free, Self-levelling Coatings are available.
Taper Locking
In most of our cooling tower fans, we preferred to have a taper locking arrangement. It is a proven part of the easy assembly in the field. These taper lockings made of Cast iron or stainless steel.
AERODYNAMIC HUB
is made of E-glass anti-static fiber, having UV protection, it is available in the segment for ease of transportation.
This hub maintains laminar airflow at the center of the fan and avoids eddies generation.
It has a high surface finish for smooth airflow.
Anti-static properties to avoid the static charge.
Seals the fan circuit and avoids air recirculation.
With the use of an aerodynamic hub, The designer gets the freedom to reduce the mechanical hub dimension.
Unlock All Feature Of Cooling Tower Fan With Our Special Feature Presentation
FEW OF OUR PRESTIGIOUS COOLING TOWER FANS CUSTOMER










Few important calculations of "Cooling Tower Fans"
Fan Law Calculation For Cooling Tower Fan
Cooling Tower Fan CTI Point Calculation :
Cooling Tower Fan Airflow Calculation :
Cooling Tower Fan Shaft Power Calculation :
Cooling Tower Fan Velocity Pressure - By wind speed Input :
Cooling Tower Fan Velocity Pressure - By Airflow Input
Cooling Tower Fans Pay Back Period Calculation: